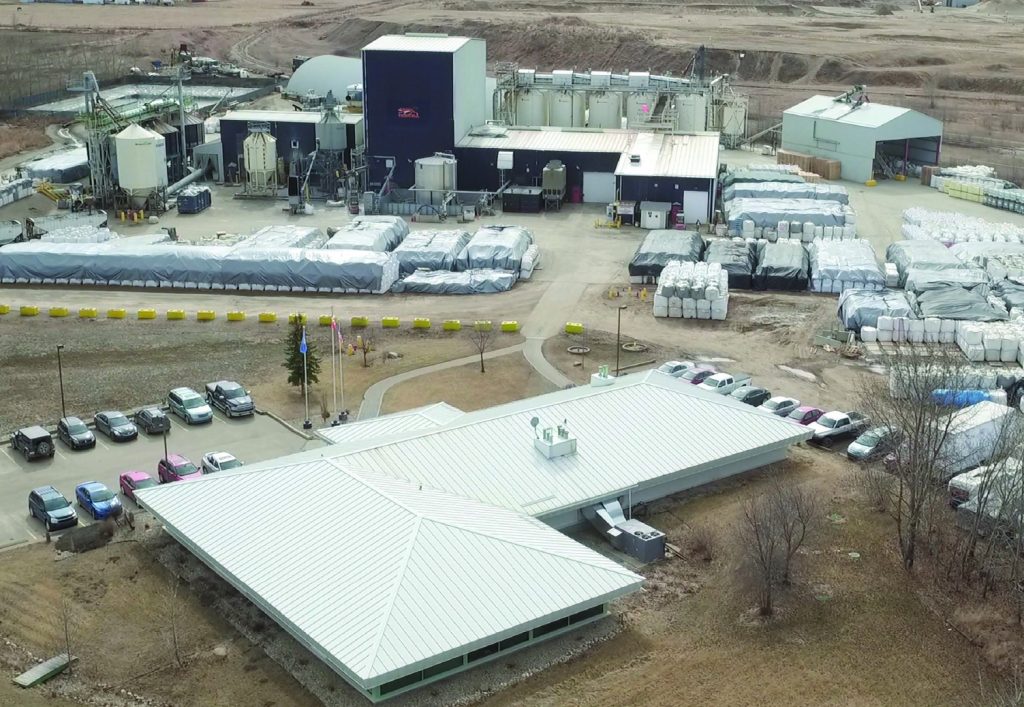 Since it was established in 1964, Tiger-Sul Products has earned a reputation for providing premium-quality products and extraordinary customer service. But what's even more critical to earning that reputation is maintaining it, says Michael Dennerlein, President of the Shelton, Conn.-based company.
In its early days, Tiger-Sul functioned mainly as a fertilizer blender and reseller of products. In 1984, the company pioneered sulphur bentonite into the marketplace. Today, Tiger-Sul is the largest producer of sulphur bentonite in the world. The company also offers micronutrient-enhanced sulphur and other crop-performance products. In addition to offering a full spectrum of products for agriculture, from row crops to specialty crops, Tiger-Sul also offers high-quality products for the turf, ornamental, and organic markets.
Dennerlein and Tiger-Sul believe that sulphur, commonly referred to as the fourth major nutrient after nitrogen, phosphorus and potassium, is more essential in today's crop production than ever because:
Sulphur is deficient in the soil because of a reduction in atmospheric sulphur.
The sulphur deficiency in soil can cause low crop yields.
Higher crop yields require more sulphur but also remove more sulphur from the soil.
Continued Innovation and Responsive Customer Service
As premium products go, Tiger-Sul is continually innovating to enhance its portfolio. For instance, Tiger-Sul has focused on better handling of its sulphur bentonite because the nature of a pastille lends itself to chipping. Tiger XP®, a sulphur bentonite fertilizer that addresses early-season soil sulphate deficiencies, now contains carbon and humic to make it a better handling product. The carbon hardens the product but does not limit it from micronizing when it encounters moisture, and the humic is an accelerant to bring the product to the plant quicker.
The company's ongoing innovation is also behind Tiger Combo® (12-0-0-50), ammonium sulphate and sulphur bentonite in one uniform-sized granule, which replaced the company's Tiger 50CR blended product, bringing a better-applied product to the grower.
Tiger-Sul has also invested in innovation to improve its manufacturing process. It owns patents on machinery that led to the development of Tiger XP and Tiger Combo. The company is also the only sulphur bentonite-producing company that offers a quality assurance/quality control (QA/QC) process, which includes screen tests, burn tests, degradability tests, and other procedures.
Regarding extraordinary customer service, Dennerlein says everyone employed at one of Tiger-Sul's three North American plants and those who work in the field are focused on servicing all aspects of a customer's needs, from logistics to product application to safety.
"We respond," Dennerlein emphasizes, describing the company's customer-service approach. "If we do not have the information, we go and look for it."
Woven into the fabric of providing premium-quality products and extraordinary customer service is Tiger-Sul's dedication to integrity for its customers, employees, the public, and the environment. Tiger-Sul routinely has external consultants conduct safety and environmental audits to ensure that it not only meets, but also exceeds industry standards.
Extensive R&D
There are several keys to Tiger-Sul's longevity and relevancy, says Dennerlein, who joined Tiger-Sul in 2013. One is the company's continued evolution to improve all aspects of its operation after growing into a recognized brand. Tiger-Sul backs its products with extensive research and development at a level that no other company in the sulphur bentonite industry can match.
Tiger-Sul will continue its relentless approach to create quality products, whether it's improving on existing products or introducing new offerings. Regarding the ladder, Tiger-Sul is currently in R&D on a new product that it's aiming to bring to market in 2023.
Tiger-Sul understands what's important to farmers – increasing yield. The company believes its ultimate success is measured by harvesters. Tiger-Sul is invariably focused on bringing its customers a solid return on investment.
It's All About Culture
As Tiger-Sul's leader, Dennerlein has focused on maintaining a culture that focuses on trust and transparency. He also wants employees to embrace a sense of ownership, noting that an "ownership mindset" emboldens free thinking and new ideas. He encourages team problem solving, asking questions, and seeking input to find unique solutions. "Employees are also allowed to make mistakes – they own them, learn from them, and take corrective action to fix them."
Employees are also encouraged to "laugh every day," he adds. That's because happy employees are a sign to Dennerlein they enjoy their jobs, which he knows is crucial in the company's quest to maintain its reputation for providing premium-quality products and extraordinary customer service.