Call today to see how Tiger-Sul Transportation can help move your products across the nation.
1-866-666-6065 – 24 Hours a Day – 7 Days a Week


About the Tiger-Sul Transportation Division
Established in 1984, Tiger-Sul Products LLC, Transportation Division (Tiger-Sul Transportation) operates out of Atmore, Alabama with corporate headquarters in Shelton, Connecticut. Tiger-Sul Transportation is well positioned for regional growth and centralized for national transportation. Tiger-Sul Transportation has transported approximately 3.6 million tons of molten suphur product since its beginnings.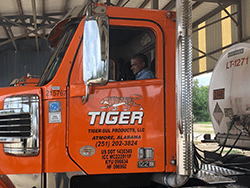 The Driving Force
In addition to experienced management and safety teams who possess over the road driving and safety experience, Tiger-Sul Transportation has a first rate driver roster:
Team of highly experienced and highly specialized drivers to haul molten sulfur. Drivers must be prequalified tanker and hazmat endorsed, with a minimum two years CDL class A experience before hire.
80% of current driver roster have been specifically handling molten sulfur for at least ten years. The roster average is over eight years of experience. 
Tiger-Sul Transportation driver trainers have ten to fifteen years of experience hauling molten sulphur
Drivers are paid differently than "by-the-mile" so they are task-oriented
Tiger-Sul Transportation has strong driver-incentive programs which result in higher quality driver retention and much less turn-over. Tiger-Sul Transportation boasts a 0% turnover rate per year.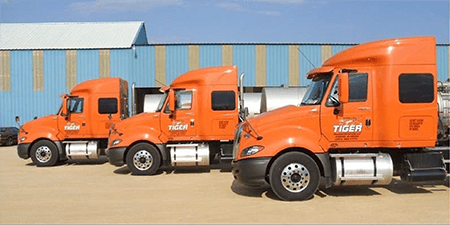 The Fleet
Since 2005, Tiger-Sul Transportation has focused on its business model and made important investments in new trucks, trailers, and safety equipment for its drivers and business. Tiger-Sul Transportation leases its tractor fleet from Penske and owns/leases a modern fleet of molten tanker trailers. The fleet consists of six tractors that include three day-cab, and three sleeper-cab tractors. These trucks have been brought into the fleet as part of Tiger-Sul's commitment to have long distance contingency availability for our important national customers. Maintenance is provided by a close relationship with Penske programs and some local shop for trailers
Training, Training, Training
Tiger Safety Program/Driver Training
The Tiger-Sul Transportation Safety Program is paramount. With implementation of the newest training tools and programs, employee awareness of safety has grown, and is now in the forefront of day-to-day business. Total incidents are reducing consistently year-over-year.
The JJ Keller Master Driver Training courses have been added to supplement the Tiger-Sul Transportation training methods. JJ Keller is one of the largest safety training companies in the U.S. and offers various lines of training for function specific duties for DOT drivers and OSHA related activities. 
New Hire Training
Newly hired drivers receive three days of classroom training with the several important topics covered (and a minimum in-field, two-week driver trainer probationary period): hazardous materials, drug and alcohol awareness, fire safety, electrical safety, respiratory protection, and hydrogen sulfide training.
Spill Prevention Training
Each driver receives hands-on training by driver trainers for a minimum of two weeks including site specific training. This training includes: task observation by driver trainers on site at loading and unloading, and task observation by supervisors on site at loading and unloading. Retraining is performed annually – for ALL drivers on their hire date anniversary.
Additional Safety Initiatives and Program Details
Tiger-Sul Transportation takes additional initiatives to implement new safety tools that strengthen the safety program and help our drivers understand to be aware of the obstacles around them. These initiatives provide the safest and highest quality service possible for customers. 
Defensive Driver Course and Master Driver Training
With our increased emphasis on safety and incident prevention, Tiger-Sul Transportation introduced the J.J. Keller Defensive Driver Course in mid-2008, as an add-on to previous training. The system is a two-part series and first includes training videos that thoroughly review different driving scenarios and defensive actions to take in the event of emergencies on the road. Second is the Master Driver Training, which is a compilation of training videos that include some of the following videos: Night Driving, Space Management, Driving in Extreme Weather, and Backing Skills.
Tiger-Sul Transportation uses and shares many additional J.J. Keller materials such as Hazmat, Lock Out /Tag Out, Electrical Safety and other as online courses and video training.
GPS Monitoring Program
This program has been implemented since 2009 and serves to provide additional safety benefits for Tiger-Sul Transportation and drivers. It also results in greater efficiencies which in turn translate into improved rates and service for customers.
Tiger-Sul Transportation monitors, in real-time, speed, traffic violations, and location of each unit – this will provide a filed feedback for records and also allow a higher level of service. Violations carry consequences. 
Other Driver Programs and Procedures
Transportation Worker Information Credentials (TWIC): All drivers, new hires and existing, have applied and have received government clearance certified under the TWIC program.
The Road Transportation Task Group (RTTG), the Sulphur Institute's affiliated program, has been an excellent continuing education process. Tiger-Sul Products has been an active participant in The Sulfur Institute since its founding.
Tiger-Sul Products operates under SOPs (standard operating procedures). We currently have over fifteen SOPs recorded and in place for procedures and are constantly modifying and testing employees on following the correct protocol for all activities.
Supervisor Audits and SOPs
Supervisory Audits
Tiger-Sul Transportation management conducts regular audits of its drivers at customer locations on a monthly basis. These are conducted announced and unannounced. The results are recorded and, if necessary, discussed with management and driver team. This gives management an opportunity to make task observations and ensure drivers are performing the processes correctly.
Standard Operating Procedures
Tiger-Sul Transportation has over fifteen documented SOPs for all things related to handling sulfur, loading /unloading trucks, and fueling, maintenance, etc. Throughout its history, Tiger-Sul Transportation has worked closely with customers to compare SOPs for their locations and even helped customers develop their own. 
In addition to SOP reviews – we have implemented a quarterly re-testing program established to retest employees' knowledge of specific SOPs that have been chosen by the committee or by suggestion of employees, or partners. This is designed to test for specific understanding but also reinforce the protocol of utilizing SOPs for all relevant procedures.
Finished Product Hauling
Tiger-Sul Transportation not only handles molten sulphur, but also finished products as well.
We operate our vans and hopper trailers in the Southeast
Finished product hauling includes bulk and dry van for fertilizers and other common commodities
Close working relationship with numerous third-party logistics providers
The fleet currently contains dry van and hopper bottom trailers
The fleet is available for dedicated lanes
Currently operating in Alabama, Mississippi, Louisiana, Texas, Arkansas, Georgia, Florida, Tennessee, and Kentucky